The last newsletter's "Alphabet Soup" article, permanently available on our website under the Education Section, included a definition for ODLN.  Hopefully our readers are now familiar with this term, and for those to whom this is "just jargon", ODLN stands for Operational Damage Limits Notice.  In this article we will take a close look at why such an item is needed and how it works.
Placards or notices that draw our attention to a particular procedure are nothing new.  For example, most electrical appliances will have an appropriately placed label warning anyone considering opening the item and exposing internal wiring "to unplug from power supply before opening".
Aircraft are not exempt from the need for such instructions.  Indeed they can be something of a placard breeding ground.  Take a look at the interior of an aircraft galley, and there are instruction placards on almost every available surface!
In ULD terminology an ODLN is a list of those items to be checked for condition before the ULD is loaded onto the aircraft. Should the damage on any ULD exceed that listed as acceptable on the ODLN then the ULD may not be used for transport of cargo or baggage on an aircraft.
Those who have been around ULDs and air cargo for more than a few years may be thinking "we never had ODLN's before, what's all the fuss about?"
To understand the basis for having ODLN, roll back to 2005 and the publication by the FAA of AC 120-85 Advisory Circular- Air Cargo Operations. This wide reaching document lays out that the airline specifies damage limits for their ULD. It also requires that airlines shall perform an operational check for damage before using a ULD and before loading onto the aircraft.
231.     IDENTIFYING OR REVISING DAMAGE LIMITS.  It is important that the air carrier specify damage limits for ULDs and any related restraint equipment.  The air carrier may use the damage limits provided by the manufacturer or may develop its own damage limits with FAA acceptance.  If the air carrier chooses to develop its own damage limits it should…
237.     PERFORMING CHECKS BEFORE USING ULDS OR OTHER CARGO RESTRAINT DEVICES.  An air carrier should perform an operational check for damage before using ULDs (that is movement or buildup) and other restraint devices and a final serviceability check before loading cargo aboard the airplane.
As a result of these requirements airlines started to fit large placards containing instructions on carrying out these inspections to their ULDs. These placards ranged from a short check list to very large and detailed decals, including diagrams showing how to check each ULD and what damage was allowed and not allowed.
Given the multilingual nature of the air cargo industry, it was challenging to communicate clearly the items to be checked and the allowable damage to operations staff around the world.  This is particularly evident when an operator handles ULDs from multiple airlines, a common situation where ULD buildup and handling operations are outsourced.
Given these developments IATA decided to create a standard Operational Damage Limits Notice format, which can be found in Standard Specifications 40/3 and 40/4  ( Pages 417 and 423) of the ULD Regulations.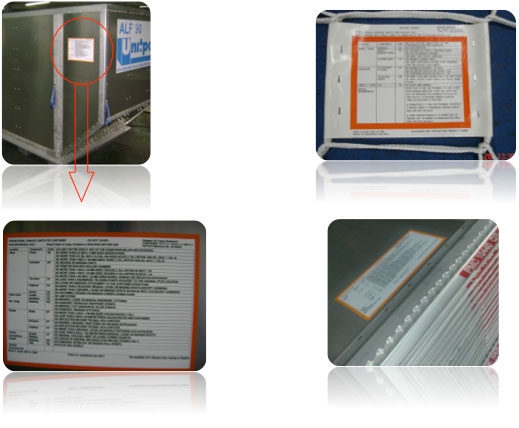 The purpose behind this initiative was to establish an industry standard that would be understandable to operators regardless of language or location, although this is not a particularly easy task!
There are of course multiple variations of ULDs, made by different manufacturers, of different ages, using different materials.  This means that damage that might cause one particular ULD to be unserviceable would be quite acceptable on another ULD.  There are no standards for allowable damage on ULDs.  Each manufacturer is left to establish its own limits and requirements.
In establishing a standard for the ODLN, IATA has created a standard layout and wording which can be used by any ULD manufacturer and airline, while allowing for different values to be used for the various conditions which should be checked.
As an example: For checking a panel on a container then the ODLN standard layout is
Sheet
SP
NO MORE THAN XXX HOLES/CRACKS PER SHEET WITH NO MORE THAN XXX INCH / XXX MM SIZE
NO LESS THAN XXX INCH / XXX MM BETWEEN HOLES/CRACKS
NO TEARS / HOLES WITHIN XXX INCH / XXX MM OF ASSEMBLY FASTENERS
Which, for a particular type of ULD, made by a particular manufacturer, will appear on the ULD placard with the "XXX"'s replaced by the actual values for that unit.
Sheet
SP
NO MORE THAN 2 HOLES/CRACKS PER SHEET WITH NO MORE THAN 8 INCH / 200 MM SIZE
NO LESS THAN 4 INCH / 100 MM BETWEEN HOLES/CRACKS
NO TEARS / HOLES WITHIN 2 INCH / 50 MM OF ASSEMBLY FASTENERS
Of course in a perfect world, all ULDs would have the same damage limits, but it isn't that simple and it never will be.  All parties who handle ULDs need to become familiar with the ODLN and provide sufficient training to their staff so that they will then be able to carry out the necessary checks on ULDs before use.  This is a mandatory requirement for ULD operations.
It was not easy to design the layout and wording such that a single approach would fit all types of ULD.  Of course, a degree of compromise was necessary and, as a result, the ODLN does contain a section "Special Requirements" into which a free text instruction can be added. However, as this wording will not be part of the established standard wording, this will often confuse operators and consequently make the ODLN less useful.  Airlines and ULD OEM's are encouraged to stick closely to the IATA standard format.
ULD OEM's have been required to fit ODLN to new ULDs since 2011, and by now a large number of ULDs are in service with these placards. What is less clear is how well the handling and forwarding industries have trained their staff in the use of these placards (ODLN  sticker). Checking a ULD before use is a quick and simple task for anyone having the correct training. It does not take a great deal of skill to run ones eye over the ULD looking for damages such as cracks, missing fasteners, torn panels, etc.
When operators are building up or loading a ULD that does not carry an ODLN, they MUST obtain the damage limits for that ULD from the owner of the ULD before they use it.  Everyone will agree that this is a very inconvenient and time consuming exercise and that the ODLN is a much more efficient approach.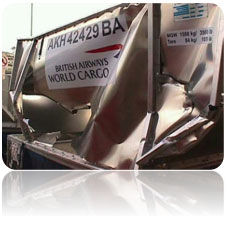 Nobody needs the ODLN to recognize obvious and major damage, it's quite clear that such damage makes a ULD unusable.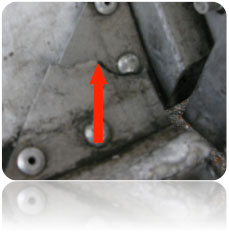 More challenging is damage that seems minor or is close to the limit, "is that crack allowable or not?", and here the ODLN is a quick and convenient reference, right there on the ULD, for an operator to make an on the spot decision on whether the ULD can be used or should go for repair.
Language is a challenge, but safety is at stake here.  Language difficulties cannot be used as an excuse for staff not being trained in the use of the ODLN as well as in the requirement to check the condition of every ULD before use.
In case anyone is in any doubt regarding the importance of always checking the airworthiness of a ULD before each use, this requirement is made very clear in the IATA ULD Regulations Sec.2.6.2. It is the duty of any person working on or around ULDs to ensure that any unit having damage exceeding the allowable limit shall immediately be isolated from serviceable units, identified as unserviceable, and sent for repair. The ODLN facilitates this process.  ULD CARE strongly encourages organizations working with ULDs to train their staff to use the ODLN's effectively and consistently.