As we approach the festive season and the end of 2018 its with great pleasure we send you the ULD CARE end of year newsletter along with season's greetings from the ULD CARE "team". And as is customary we will reveal the coordinates of the 2019 conference at the bottom of this newsletter, so read on….

Looking back on 2018 we have covered a great deal of ground, to list just a few:
Following the announcement late last year by our long serving secretary and general manager Louise Ladouceur that she would leave ULD CARE  late 2018 we embarked on a replacement process, ultimately settling on outsourcing our "back office" functions to a UK company Kingston Smith Association Management who specialise in managing associations such as ourselves. The transition has not been without its challenges, but as we end the year we are feeling comfortable with the new set up, which provides us with not only the resilience of having a multi person organisation we can rely on, but also is at a considerably lower cost.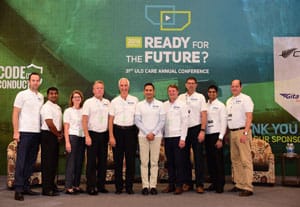 Another "housekeeping" task in 2018 was the election of directors and we are happy to see some new faces on our board.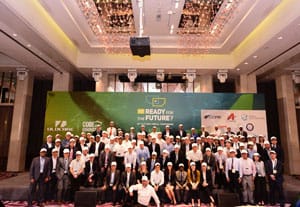 And while on the subject of the annual conference, held this year in Guangzhou China we received a great deal of very positive feedback from this event, feedback that will enable us to deliver an ever better event in 2019.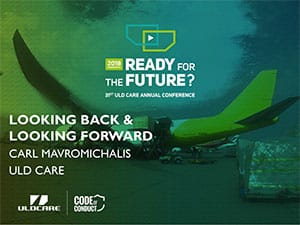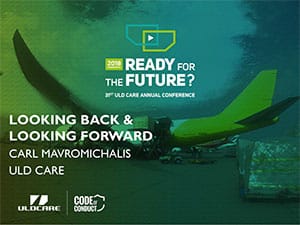 During the year ULD CARE has pressed on steadily with a number of our initiative. Rather than list them all here we would refer you to the "looking back and looking forward" presentation made at the opening of the annual conference. Click on the image to get the entire overview.
Our conference tag line " Ready for the Future" has a great deal of significance. A year ago the term BLE was only just finding its way into the ULD " conversation" and "Blockchain" was associated with Bitcoin. Now, 12 months along we see BLE and other forms of ULD tagging becoming a reality, finally putting to rest the countless years of discussion on  RFID without any significant indusrty adoption, while intense activity continues behind the scenes to create a blockchain and smart phone app based  replacement for the ULD CARE IULDUG system that will not only serve just interline transactions but encompass the entire ULD transfer "playing field". Watch this space for more news on this in Q1 2019.

Also deserving of mentions are: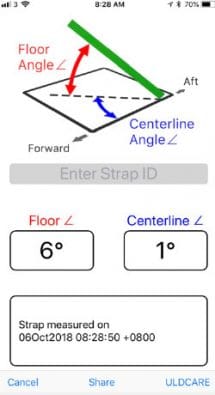 The Strap Angle App. Now available for IOS devices on the Apple App. Store ( free !) this handy app facilitates the fast and accurate measurment of both horizontal and vertical angles of an installed cargo strap. Further enhancements and also an Android version are in the works.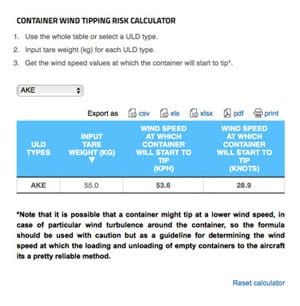 Container Wind Tipping Risk Calculator. Located on the ULD CARE web site at https://uldcare.com/container-wind-tipping-risk-calculator/ this easy to use calculator will calcculate on line the wiond speed at which a ULD of the selected tare weight and IATA contour will tip.
Both the strap app and the wind tipping risk calculator are featured in the December issue of Ground Handling International , see pages 14-15 at http://magazine.groundhandling.com/eureka-online-magazine/7552

ULD in 60 Seconds. Working in collaboration witn Airport College our latest solutions are 60 seconds long captioned videos containing very simple ULD related instrucitons. The first one, " Conatainer Inspection in 60 seconds" is already available at https://www.youtube.com/watch?v=fe7ku2YK4xA&feature=youtu.be  with "pallet and Net inspection in 60 seconds" in production and others in the pipeline.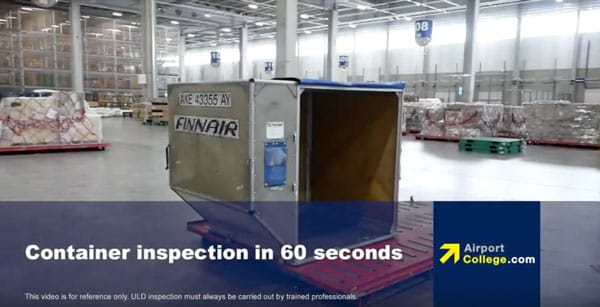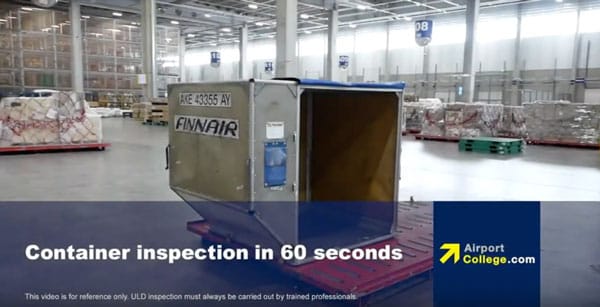 Two bonus points for this solution
ULD CARE and Airport College  are happy to provide "off line" versions of these videos to airlines, handlers, cargo terminals etc to run on their in house video systems.
With no spoken audio and limited text it is easy to produce these in different langauges. We expect to be able to offer these in a wide range of langauges.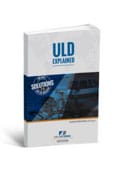 And of course it goes without saying that our flagship publication ULD Explained remains available in both hard and ebook versions through the ULD CARE web site.

Code of Conduct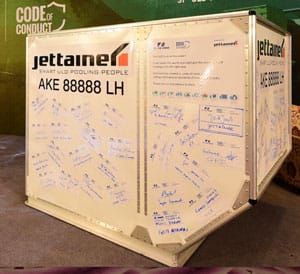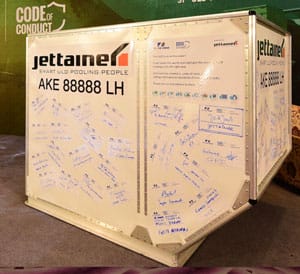 An idea in 2016, a soft introduction in 2017 and a reality in 2018, the ULD Code of Conduct is  on its way to becoming a reality. Its ambassador, AKE 88888 LH is on the road, or rather in the air, promoting the  ULD CARE ULD Code of Conduct 24/7. We are planning to publiscise its movements around the globe in the coming months and bring it back to our 2019 conference and of course continue to promote widespread adoption of the ULD Code of Conduct- its in everyone's interest.

Where to in 2019?
In keeping with the 3 regions tradition inherited from IATA 2019 is the turn of the America's and based on feedback through the recent survey and also an assesment of hotel and conference related costs the location of the 2019 conference is
MONTREAL, CANADA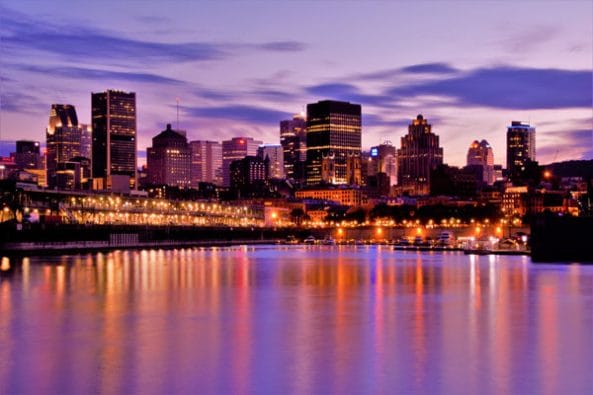 Commencing on 16th September. Mark your diaries please !!!!

Wishing all our members and readers a very happy festive season.