The first announcement about the Annual Conference in Budapest has been made and invitations were sent 2 weeks ago to the ULD CARE members together with registration forms and hotel booking information.
As we indicated in our last newsletter, the 2017 conference will be held alongside Air Cargo Handling under the same roof and offering some joint activities. Our respective programs will be synchronized so that at certain times, the agendas of both conferences will merge into one. Have a glance at the conference grid below.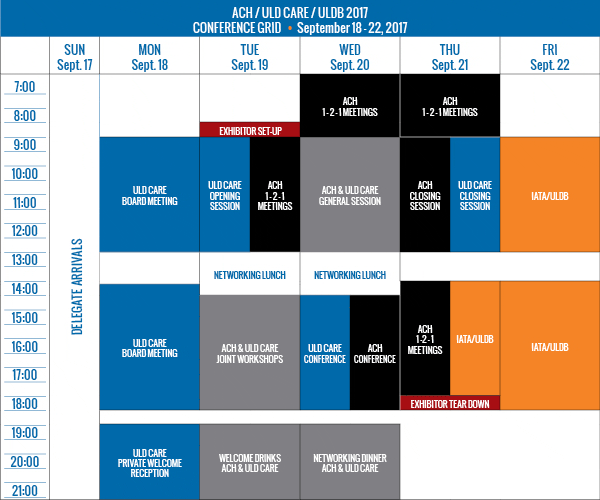 We are not yet ready to share the program of the conference but would like to take this opportunity to introduce our wonderful sponsors for this year.
The ULD CARE Private Welcome Reception on Monday, September 18, will be hosted by PALNET Air Cargo Products.

This will be the only private gathering of the week as for the last night of the conference on Wednesday September 20th, we will enjoy a Joint Networking Dinner organized by Air Cargo Handling.
Budapest is a beautiful city and keeping with the tradition, thanks to the generosity of Cargo Network and Airplane Equipment & Services, family members and friends of the delegates will be able to visit some of its best attractions.
The Tour Program is already available and promises some exciting and memorable moments. You can view it here. Katy and Gabrielle will be your guides.
We are grateful to Teijin Aramid and Satco for their sponsorship of both luncheons.



Networking luncheons and coffee breaks will be offered in the exhibition foyer and this will be a great opportunity to meet the delegates from Air Cargo Handling while visiting the various exhibition booths featuring a variety of products and services.
If you would like to participate as an exhibitor, you may contact Air Cargo Handling directly: http://bit.ly/ach-exhibitor
We already have 3 out of 5 coffee breaks confirmed, thanks to Gita Aviation, DoKaSch and a joint collaboration between Dyneema and Amsafe Bridport.



For those interested, we still have some sponsorship opportunities available.
This is a reminder that the membership privileges include free attendance for 2 at the conference and members can bring additional delegates by participating in the sponsorship program. We also offer an observer status rate for non-members who wish to attend the conference for the first time.
For more information, contact Louise Ladouceur:  louise.ladouceur@uldcare.com.
The Annual Conference is four months away and we hope we can count on your presence.  Mark the date in your calendar:  Budapest – September 18 to 21, 2017.