Modern psychology tells us time and again that it's far far better to provide positive rather than negative reinforcements for any required practices and it seems sensible enough that this would also apply to any aspect of ULD operations. It is of course somewhat easier to come up with a list of DONT's:  Don't use a forklift, Do not drop the container, Don't stack the container, etc.  and the list goes on and on… Ironically, the industry has been marking containers with DO NOT FORKLIFT signs for years with little enough in the way of results to show from it.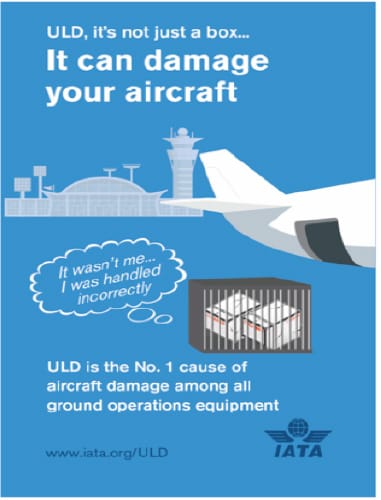 As an initiative to support the use of positive messages on the subject of ULD operations to the industry at large, ULD CARE has created a list which contains two Top Level Requirements, 11 Secondary Requirements and about 50 Detailed Implementation Requirements, which are included at the end of this article in a table format, please feel free to incorporate any of this content into any of your guidance material, operating manuals and training materials.
You might be asking yourself if such an approach can make any difference.  ULD CARE believes the answer is yes, not only because this kind of approach has not really been put into practice previously but also because there are examples of airlines where a highly disciplined approach to ULD operations can and does lead to greatly reduce damage and greatly increase safety.
It is also worthwhile to suggest that this list might be well used alongside the recently announced IATA ULD Safety Campaign, with its video and posters.  The downloadable poster artwork can work well together with this list of DO's, providing a level of best practice guidance that the industry has not seen before.
| | | |
| --- | --- | --- |
| Top Level  Requirement | Secondary Requirement | Detailed Implementation Requirement |
| DO respect that ULD are aircraft parts, to be used according to written procedures  and only  in serviceable condition |   |   |
|   | DO  inspect all ULD for damage before commencing build up |   |
|   |   | DO inspect all parts of the ULD before use for any damage |
|   |   | DO refer to ODLN or other manufacturers data for information on maximum allowed damage |
|   |   | DO carry out any temporary repair only if allowed by airline procedures |
|   |   | DO identify any unserviceable ULD as damaged and store separately from serviceable ULD |
|   |   | DO inspect ULD for damaged hand ( pull) straps |
|   | DO  follow required procedure during ULD build up |   |
|   |   | DO apply  ULD limits of contour limits and Centre of Gravity limits |
|   |   | DO apply aircraft limits for Max Gross Weight, area load and running load |
|   |   | DO apply cargo straps for any item which by weight or configuration requires individual restraint |
|   |   | DO close  and lock container doors securely |
|   |   | Do position and tighten pallet net correctly |
|   | DO carry out final ship side visual serviceability check before loading ULD to aircraft |   |
| DO carry out ULD ground handling without damage to the ULD |   |   |
|   | DO carry out any ULD storage operations such that ULD are protected from damage |   |
|   |   | DO store built up ULD on dollies or racking equipped with rollers/ball mats and of appropriate size/configuration |
|   |   | DO store empty ULD on dollies or racking or on a temporary basis only in a designated storage area on spacers on the ground or stacked maximum 2 high |
|   |   |   |
|   |   | DO store cargo nets individually in bags and protected from dirt, moisture and UV |
|   |   | DO position cargo nets permanently attached to pallets towards the centre of the pallet with all loose net inside the pallet periphery |
|   |   | DO roll up, store and protect  cargo straps from dirt, moisture and UV |
|   | DO carry out temporary storage of ULD outside of racking according to procedures to protect the ULD from damage |   |
|   |   | DO temporarily store ULD in a designated storage area, safe from damage by vehicles, GSE, wind and jet blast etc. |
|   |   | DO place spacers underneath any container being placed at ground level or stacked on another container |
|   |   | DO only stack containers 2 high |
|   |   | DO provide proper supervision of temporary ULD storage |
|   | DO carry out ULD movement and transport operations such that ULD are protected from damage |   |
|   |   | DO move built up ULD on dollies or racking equipped with rollers/ball mats |
|   |   | DO secure ULD against horizontal and vertical movement by engaging all locks/stoppers |
|   |   | DO transport ULD on dollies within speed limits |
|   |   | DO set up dolly trains so ULD with overhangs do not contact other ULD or fixed objects |
|   | DO pay special attention to securing ULD when transporting on road vehicles |   |
|   |   | DO secure ULD by the base |
|   |   | DO fit any additional restraint without damage to the ULD |
|   | DO build up and break down ULD using sufficient care and attention |   |
|   |   | DO take care of the ULD |
|   |   | DO secure container door(s) in open position |
|   |   | DO place the empty ULD on a level roller deck/ball mat |
|   |   | DO place plastic sheeting on ULD base before loading cargo |
|   |   | Do place heavy items in the centre and low down |
|   |   | DO build up cargo in a stable and interlocking manner |
|   |   | DO build overhanging loads in a stable manner |
|   |   | DO place cargo so that it does not block the edge rails of a pallet or the closed door of a container |
|   |   | DO place plastic sheeting over the load before installing the pallet net |
|   | DO close doors/apply net correctly |   |
|   |   | DO completely close container door(s) and engage all locking devices fully |
|   |   | DO ensure closed door is within ULD contour |
|   |   | DO attach pallet net to pallet using all fittings spaced equally along the pallet sides |
|   |   | DO place the net evenly over the load |
|   |   | DO gather excess netting using reefing hooks |
|   |   | DO close corners using only original OEM lashing devices |
|   |   | DO apply only sufficient tension to hold the net securely in place around the load |
|   |   | DO secure all loose ends of netting/straps |
|   | DO attach ULD Tag |   |
|   | DO break down ULD using sufficient care and attention |   |
|   |   | DO take care of the ULD |
|   |   | DO secure doors in open position |
|   |   | DO remove straps and loose pallet  nets and place in secure storage |
|   |   | DO place permanently attached nets towards centre of pallet |
|   |   | DO remove any loose items, spreader boards, plastic sheet |
|   |   | DO inspect ULD for damage before placing in storage |